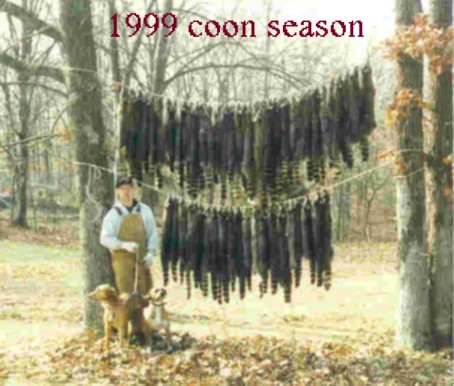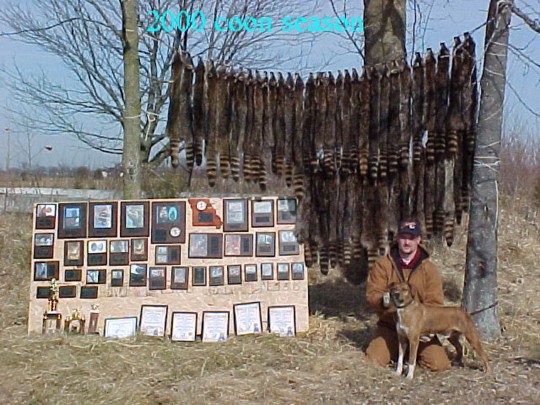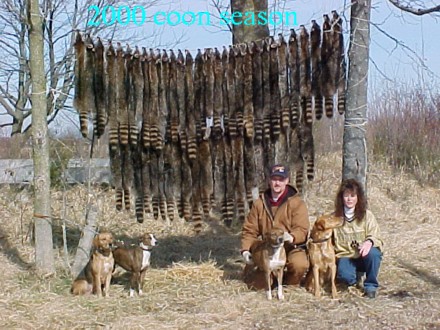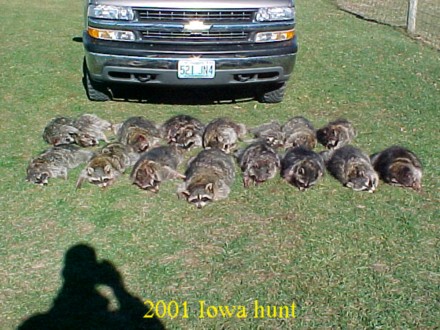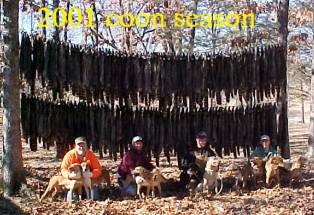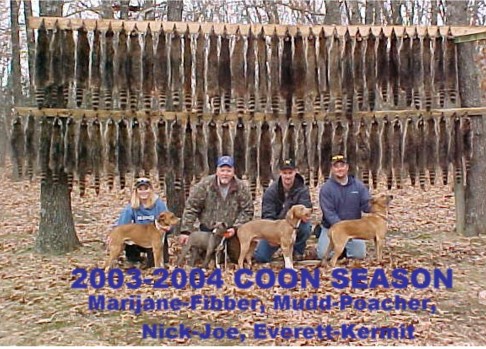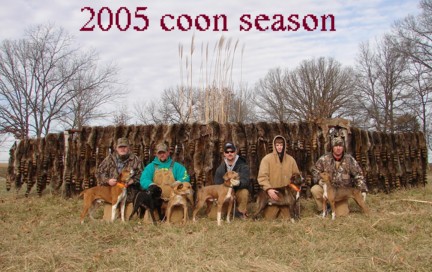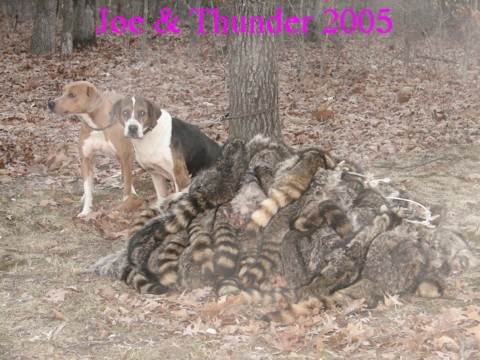 Some Great times Coon hunting at Clark's Mtn. Curs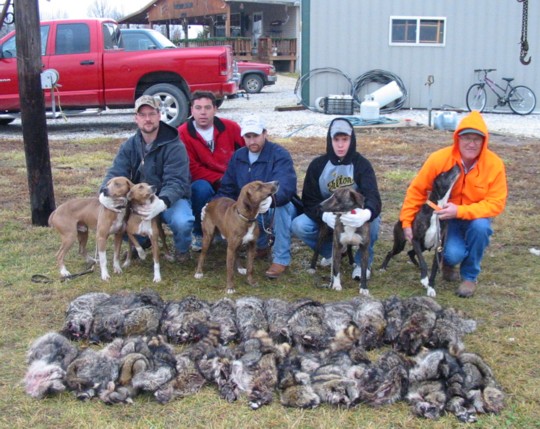 2006 weekend hunt with George Harrington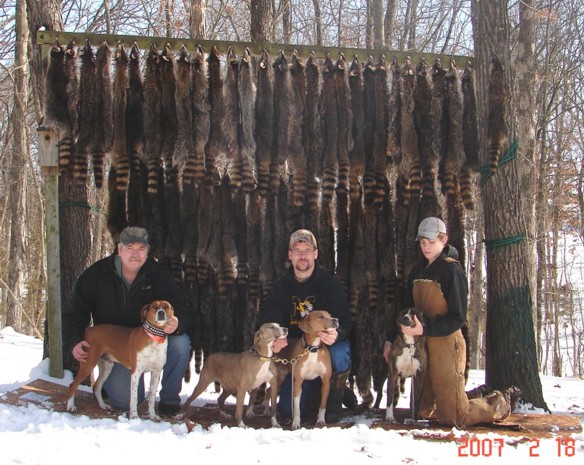 2006 coon hides, Roy with Liar, Nick with

Joe and Freak, Taylor with Blaze.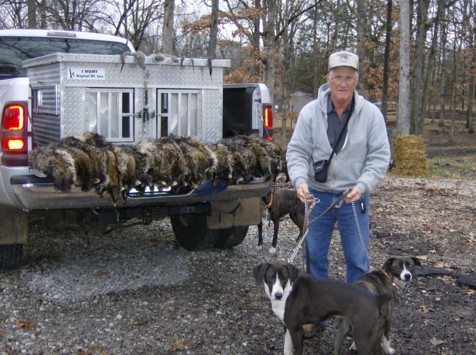 2006 Mineral Hills Weekend hunt with my Dad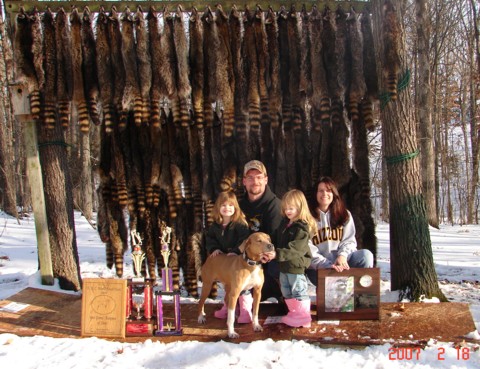 2006 Coons with the Family and Joe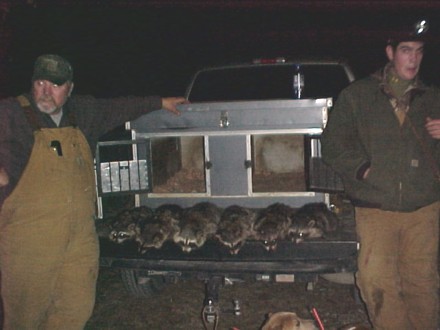 Roy and Stevie with 6 nice coon treed in Jan 2007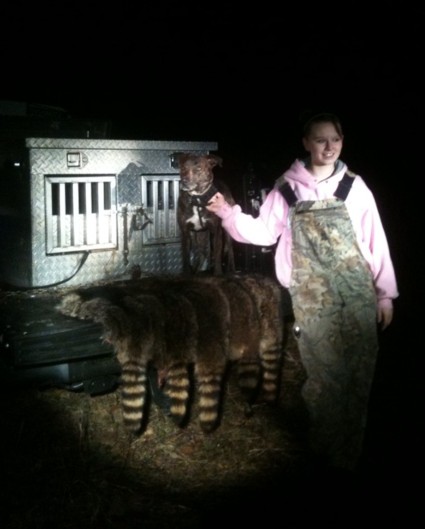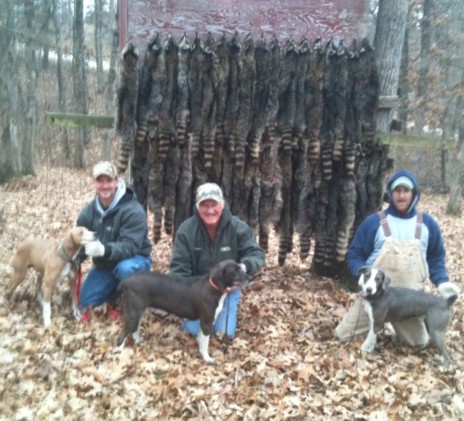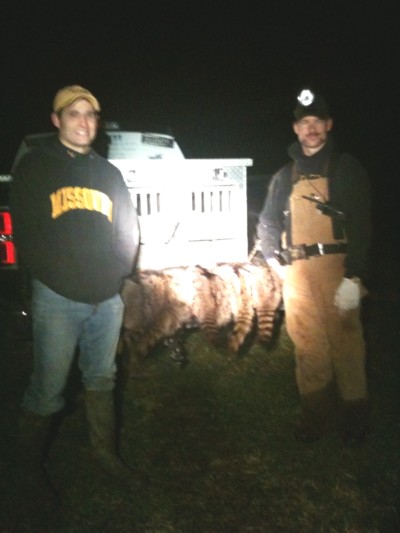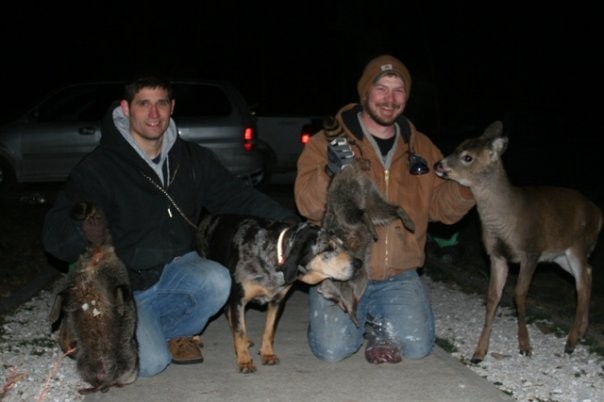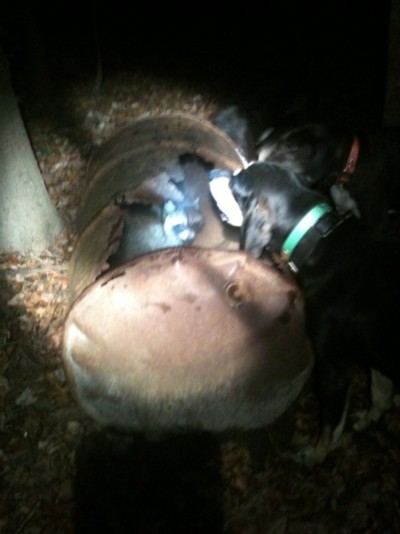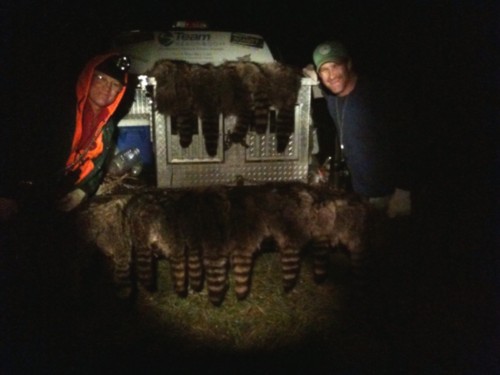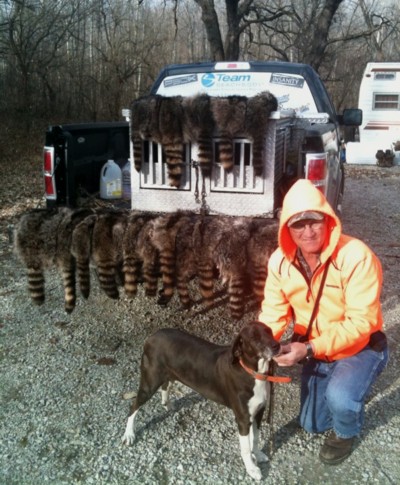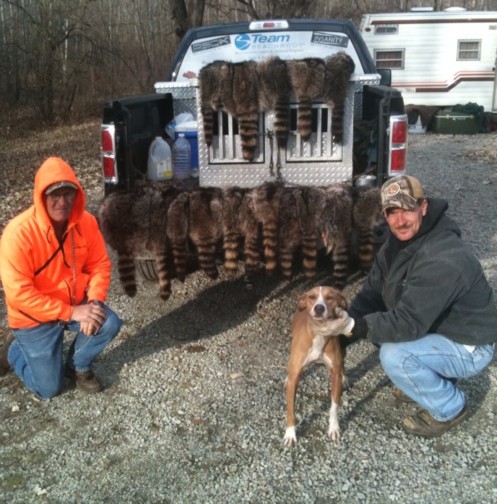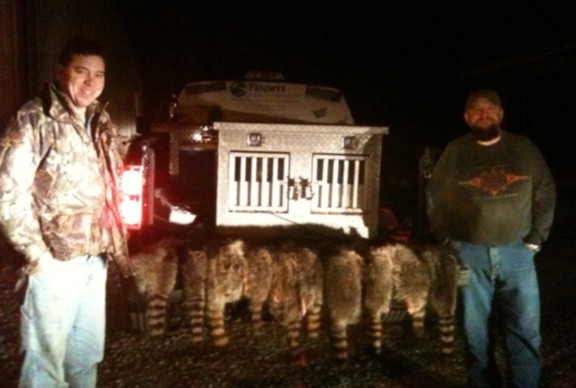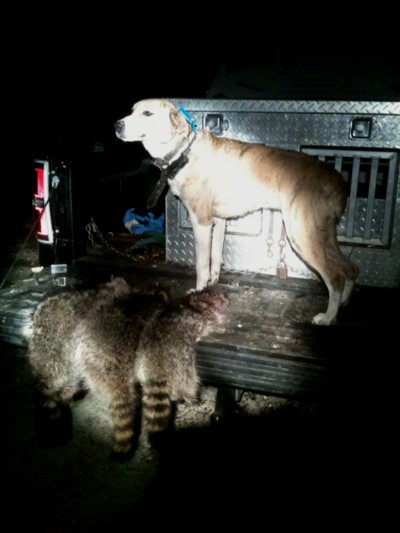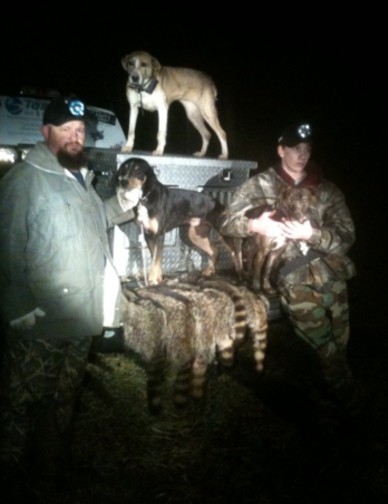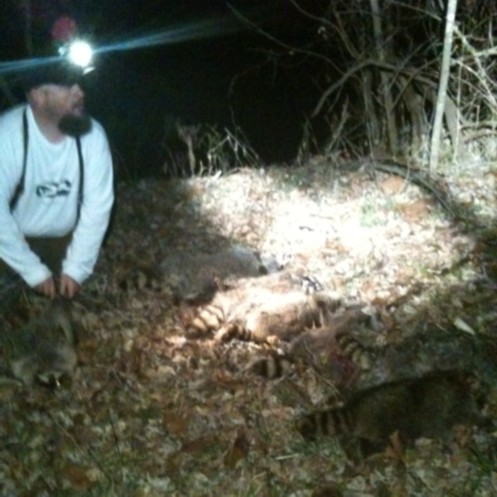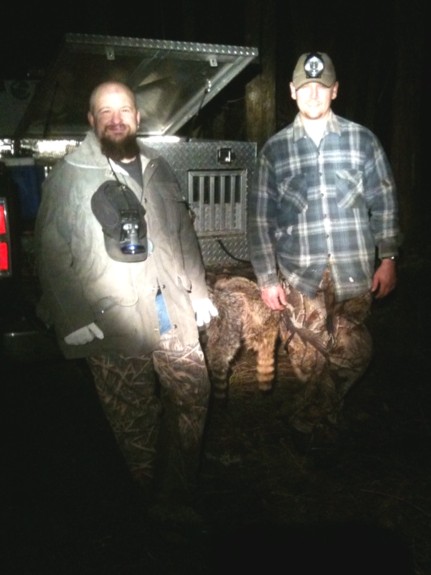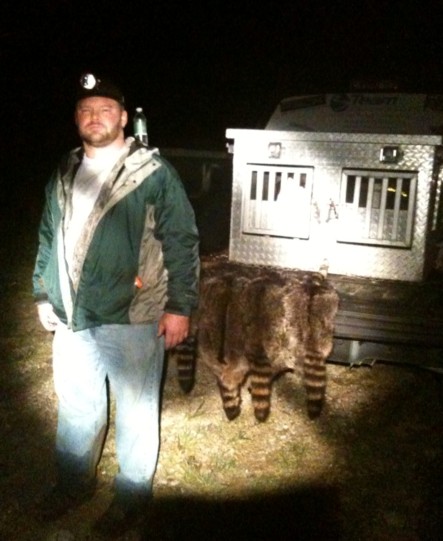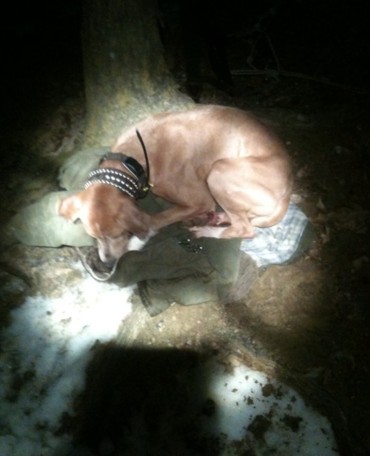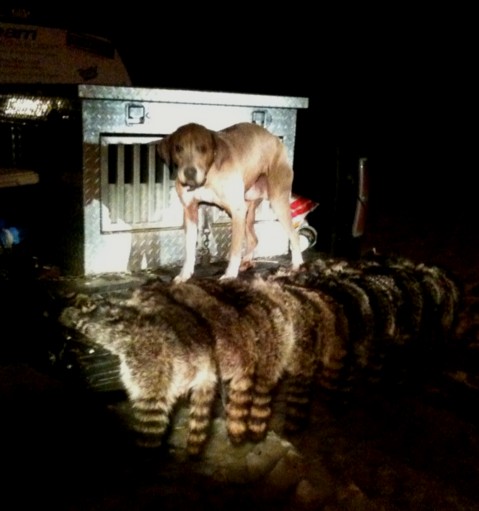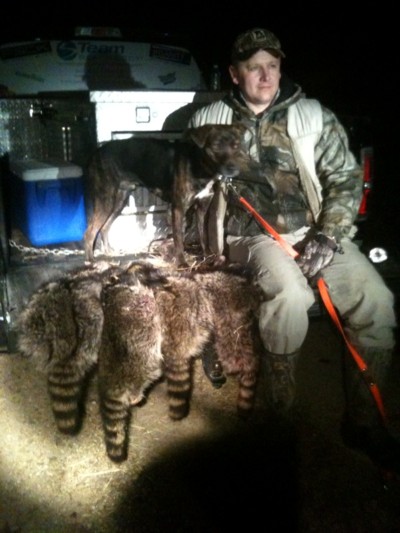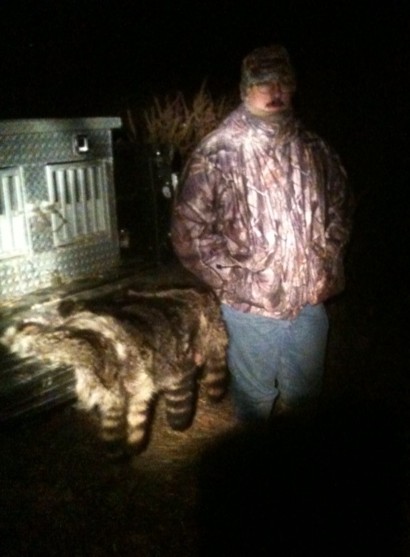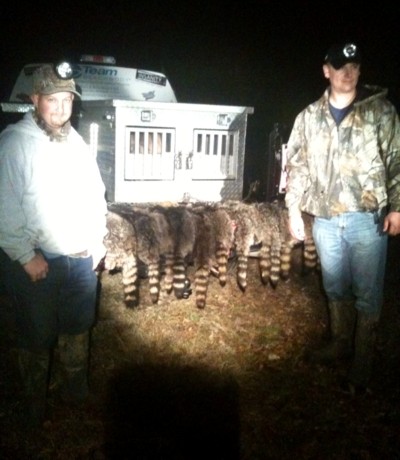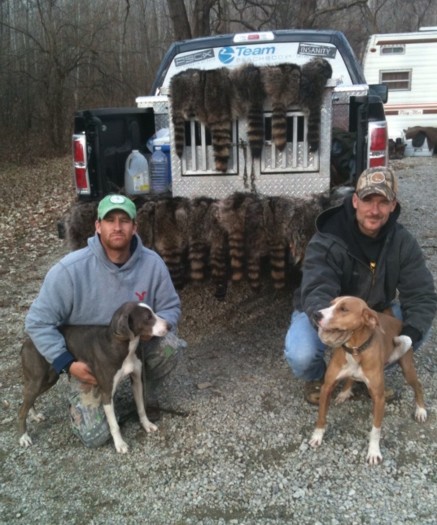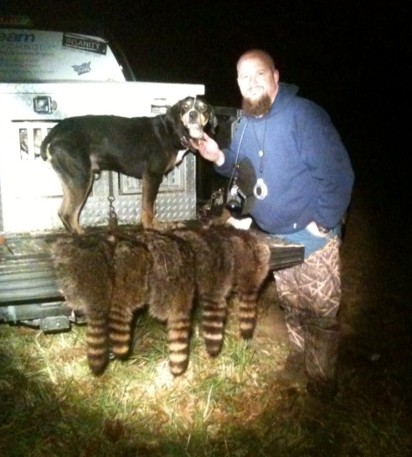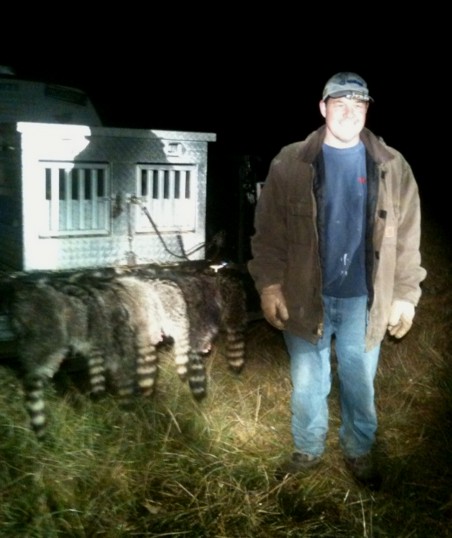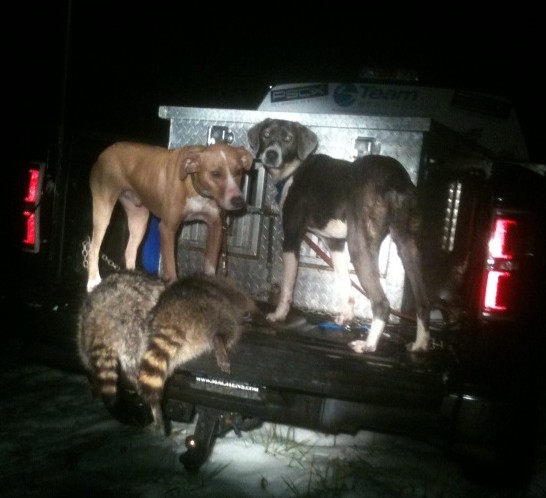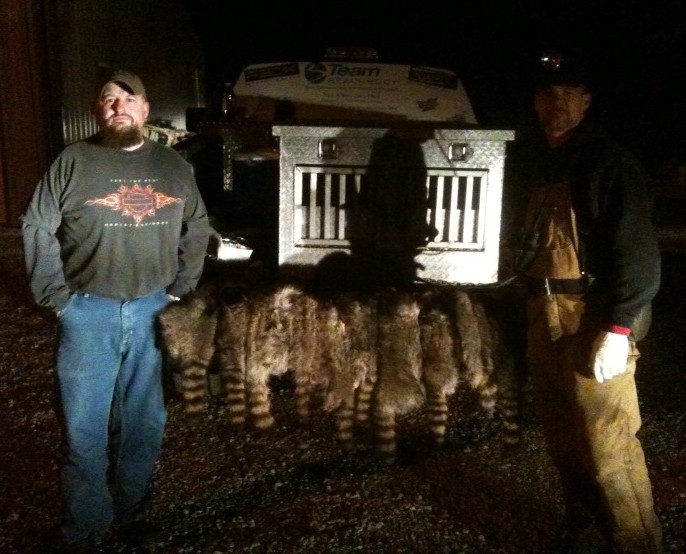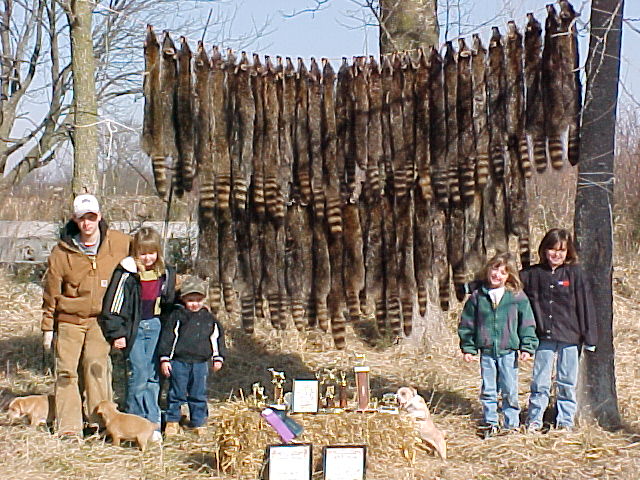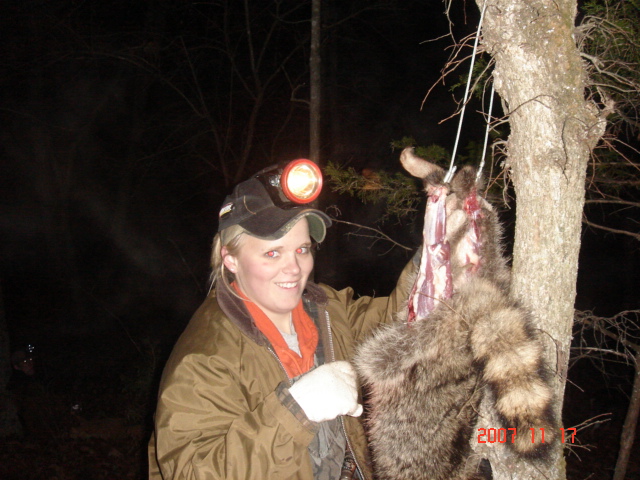 Marijane Williams skinning in 2007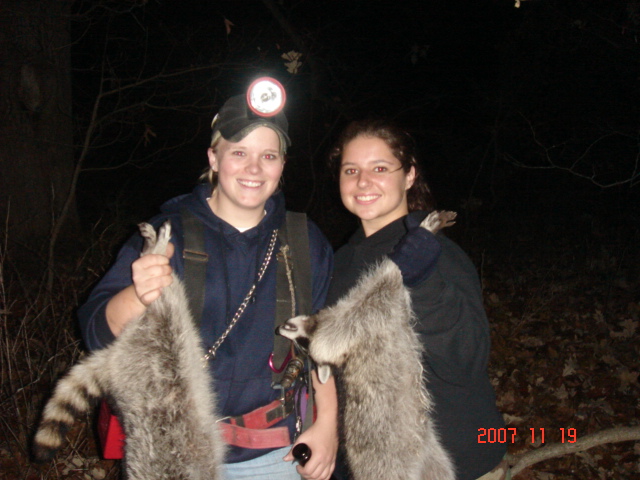 Marijane and Dallas Fischer with a couple 2007 Coon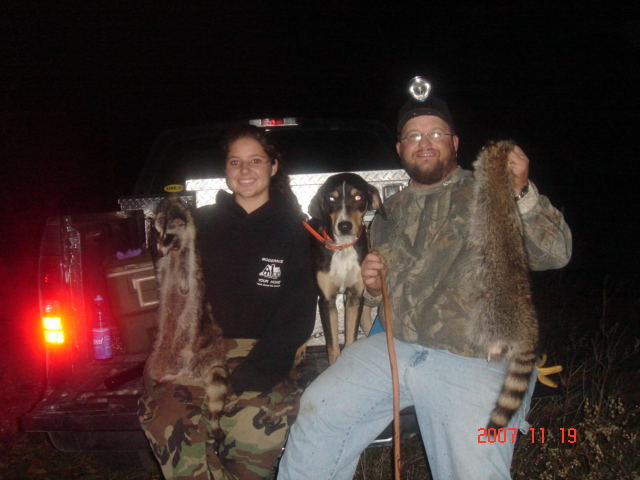 2007 Jake and Dallas Fischer with Obama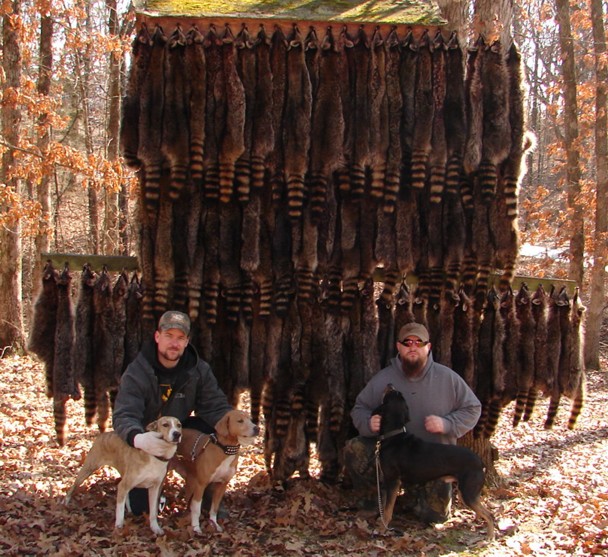 2008 Coon Hides, Hoochie, Joe and Obama was the tree dogs!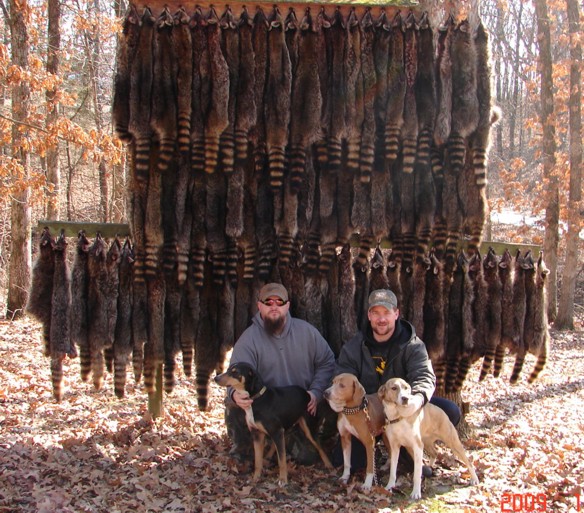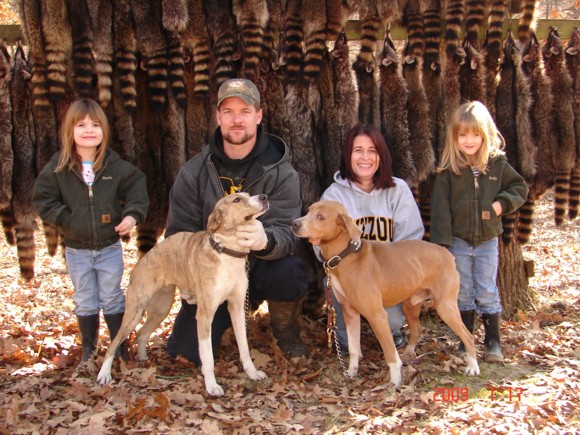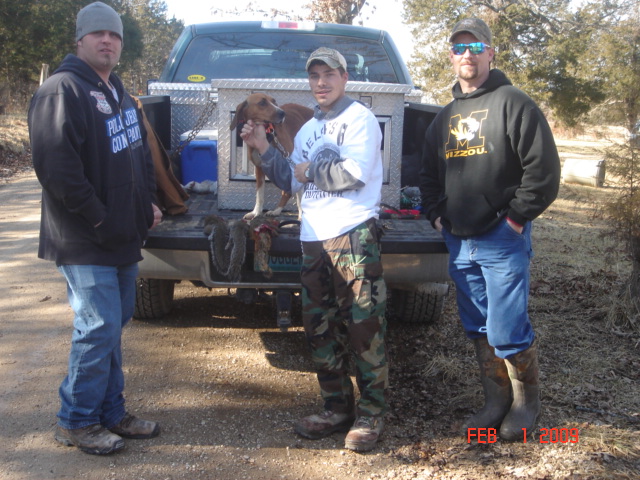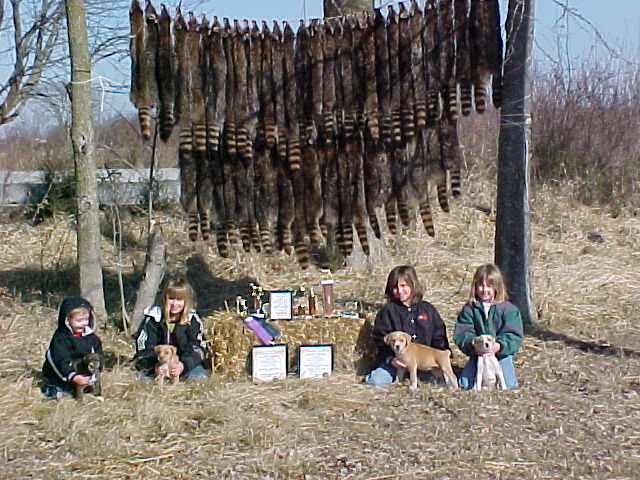 2009 North hunting trip with my dad - one nights catch

2009 North Hunting trip Dad and Buck - Deshon Dairy Farm

Joe treed this coon in a Barrel, first time I had ever seen this..

George Harrinton and Jake Fischer 11 coon treed up at Georges dads 2009.

Burke Schuster and I with 6 Coon, that Joe treed 2009

2009 Joe Kettle with 4 coon Two Toed Joe Treed

2009 Jake Fischer and Kip Bartlett

Kip Bartlettt and Mitch's first night coon Hunting 2009, 14 coons treed by Joe and Obama, Kip was hooked and has started hunting with us since.

2009 Jake Fischer getting 6 coons ready for me to Skin

Dad and Kate with some 2009 coon hides we treed on the Deshon Dairy farm.

2009 3 day trip up by St. Joe, MO, treed 37 coon. Nick with Two Toed Joe, my dad Donnie with Kate and Buck Thompson with Dollar.

Burk Schuster, his Leopard Cur Fez and a young deer that decided to hang around to be a part of the family.

2009 - Kip Bartlett with his new dog Rip and 4 nice coon- did not take Kip long to get a pup, Rip is a year old in this picture.

Mike with 4 coon treed in Eldon at the Turkey Farm-2009

2009 - 6 coons, Jake Fischer with Obama, Trenton Bartlett with Rip and Hoochie on top of the box.

Pat Fogue with 7 really nice coon that Joe and Obama tree in 2009.

Buck Thompson and Dollar and Nick Clark with Freak on a Leash(Buck).

Obama's big night being the MAIN dog, he did an awsome job getting 5 big coon treed out of the Propane Ditch.in 2009

Alexa Bartlett and Rip with some really nice 2009 coons.

2009 - a couple of nice pups with a couple of nice Coon- Buck and Skye are the pups.

Jake Fischer and Nick Clark with a nice hunt up with George Harrinton in 2009.

Joe got 11 Coon treed Jan 2009 in about 6 inches in snow, hard going for sure we where ready to see the truck!

Two Toed Joe waiting for me to finish up skinning the last couple of coons so we could go to the truck, there was about 6 inches of snow and 6 degrees this night.  Guess after treeing 11 he deserved the break.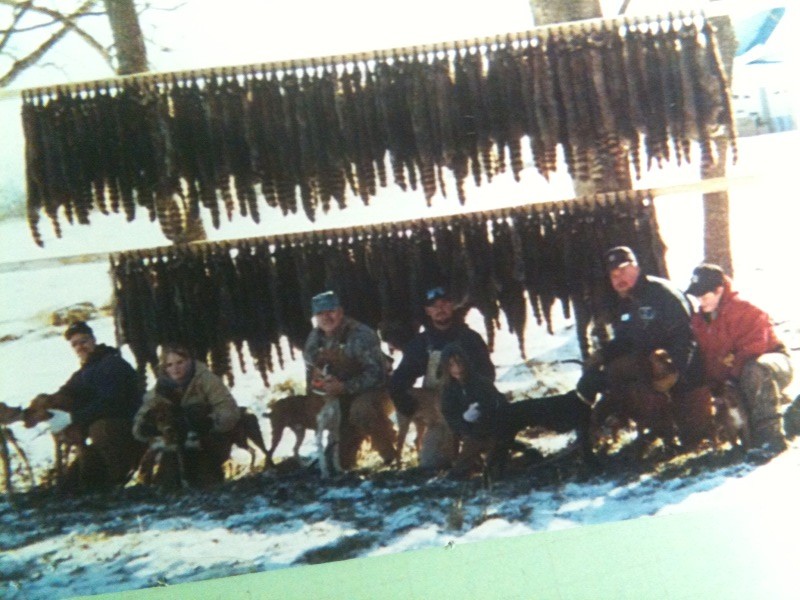 2002 Nick, Marijane, Roy, Everett, Chris and Chaz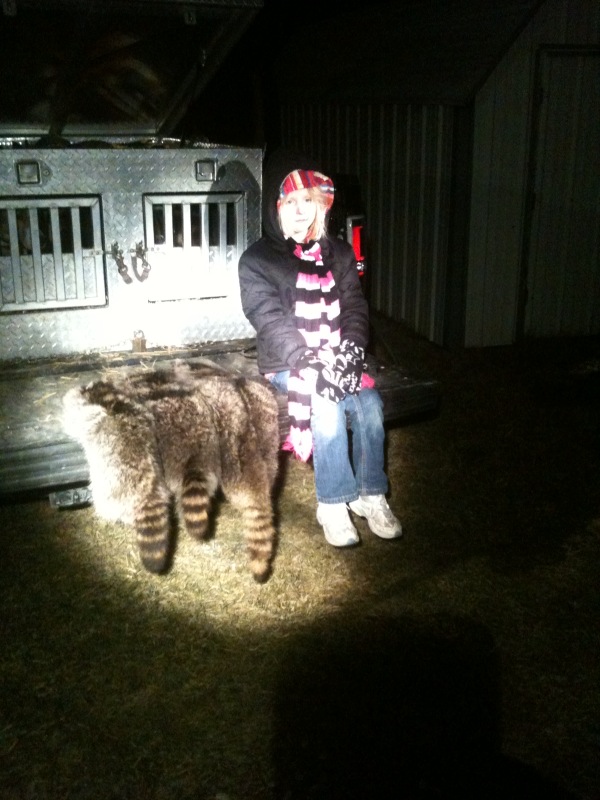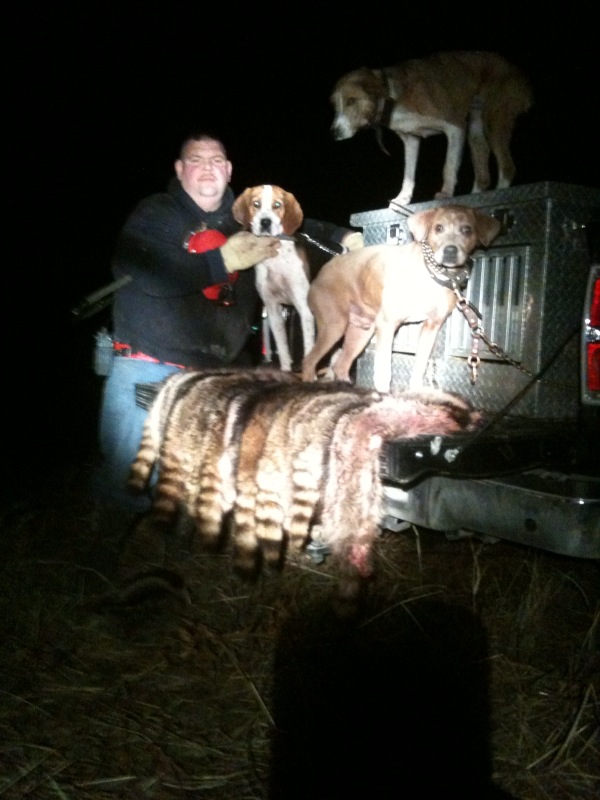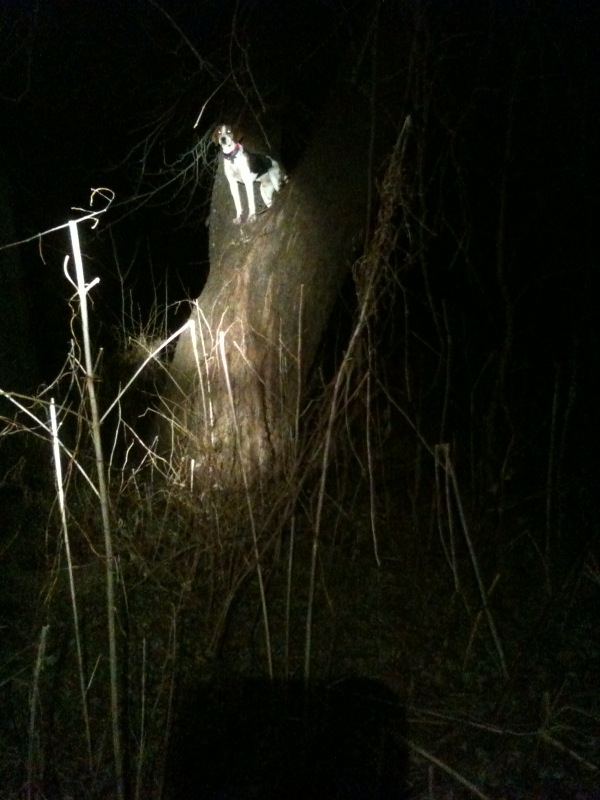 2009 - Corey's Walker dog - Cutter way up in a cotten wood tree, treeing mr coon.

2009- Corey Cumming's with Cutter, Two Toed Joe, Hoochie and 11 coon Treed in Hartsburg, MO late Jan.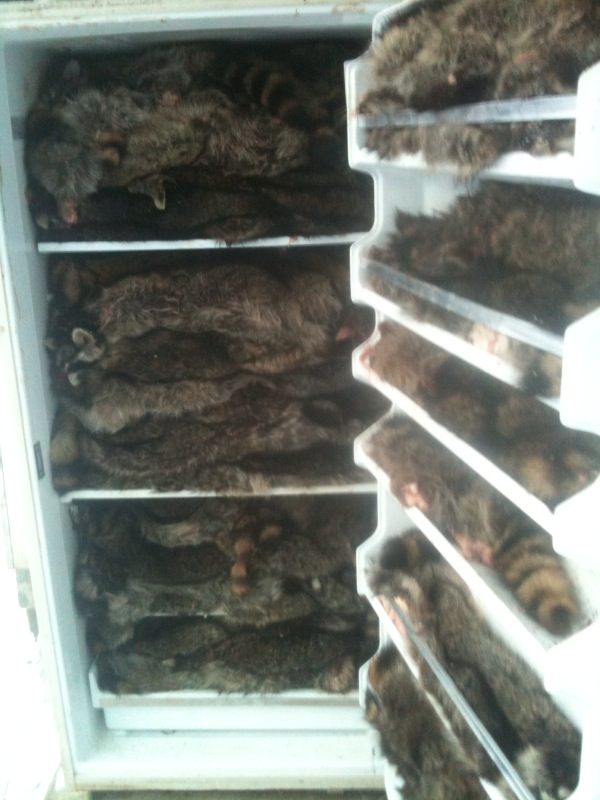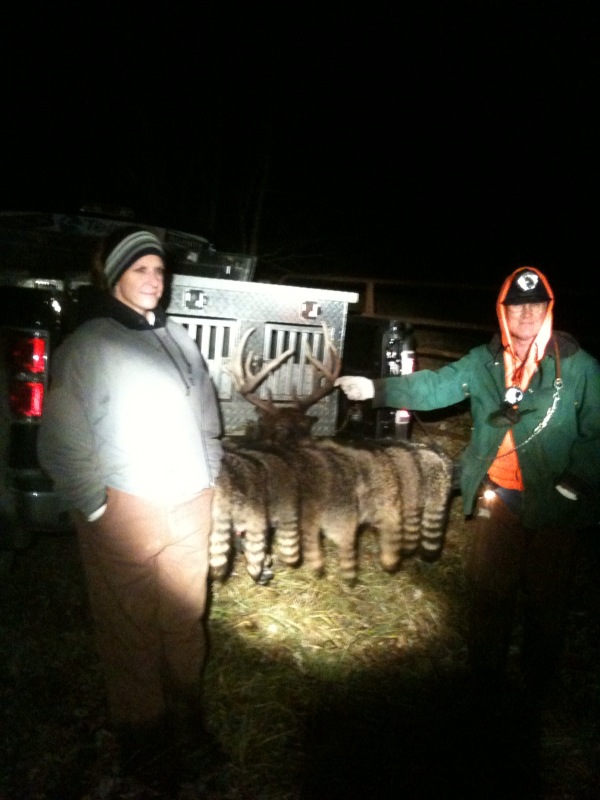 2009 - one freezer full of coon hides - the second one is getting close.

Lori Bartlett and my Dad with 8 nice coon and a big 12 point rack we found.

( disclaimer - Lori is not fat, just had alot of clothes on!!  lol )

Okay we do squirrel hunt some! Scott fisher, Jermey Tunes and I with a few squirrel at Jake Fischers House.

Abby Bartlett (age 7) on Jan 30th 2010 with coons Joe and Rip treed at the Goat Farm.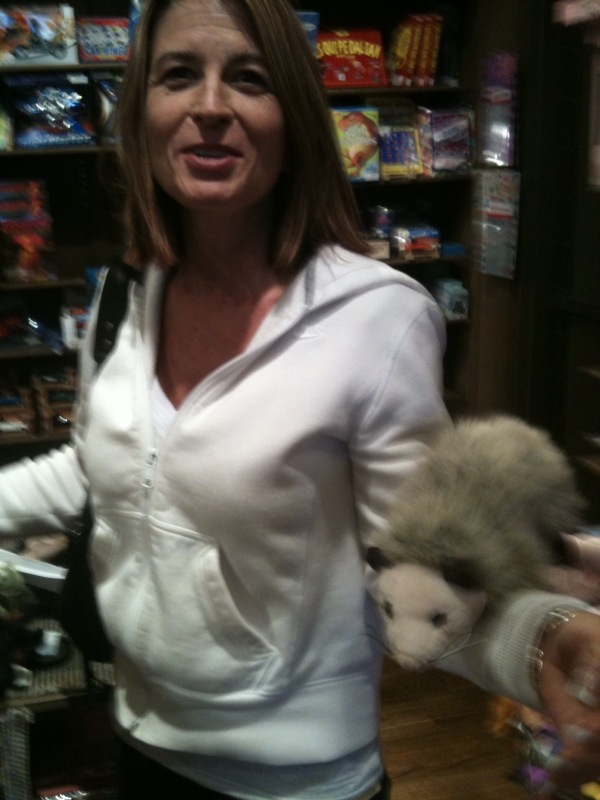 My wife and her new friend - Yea we tree pussoms too!  Just do not take the time to take those tailgate pictures!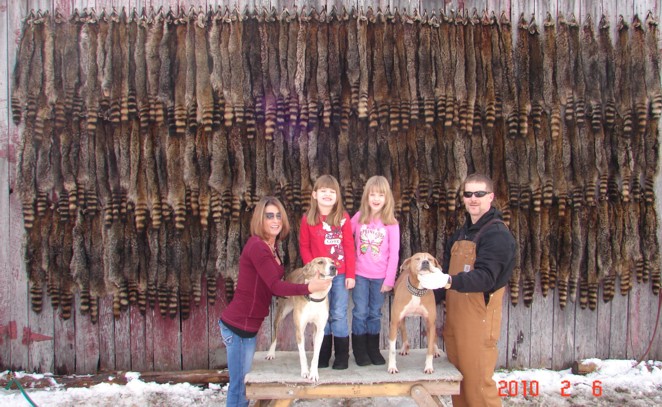 The Clark's 2009-2010 coon season with Clark's Hoochie Coo and Clark's Two Toed Joe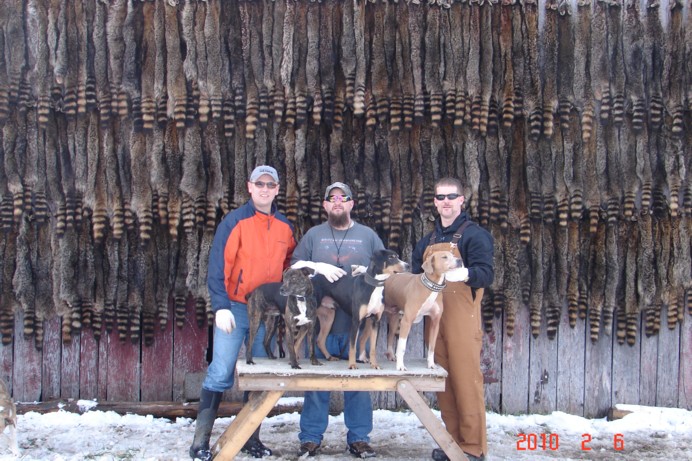 2009 - 2010 hides - Kip Bartlett with Rip, Jake Fischer with Obama and Nick CLark with Two Toed Joe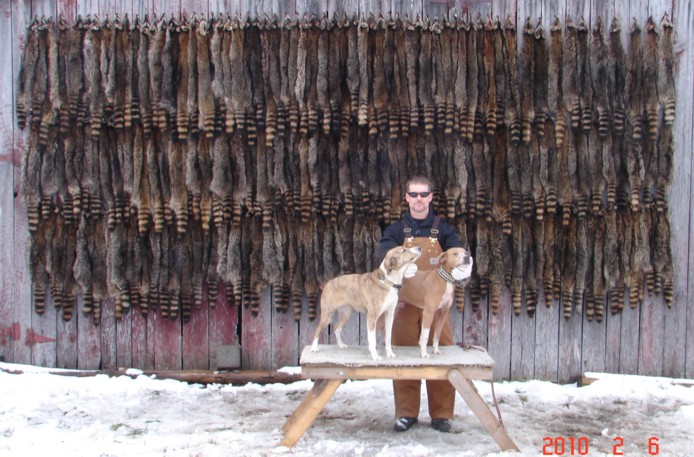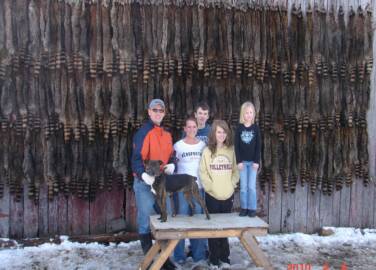 The Batletts - Kip, Lori, Trenton, Alexa and Abby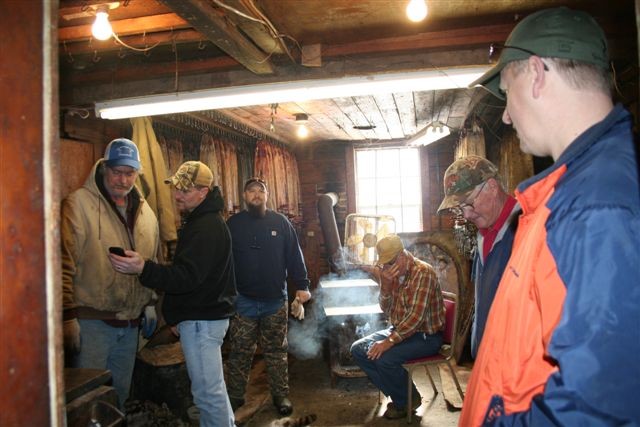 2010 at Youkam Fur House- $7 average on a total of 241 coons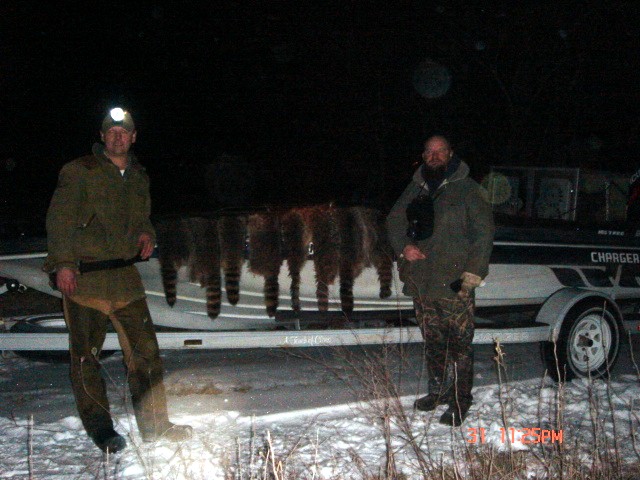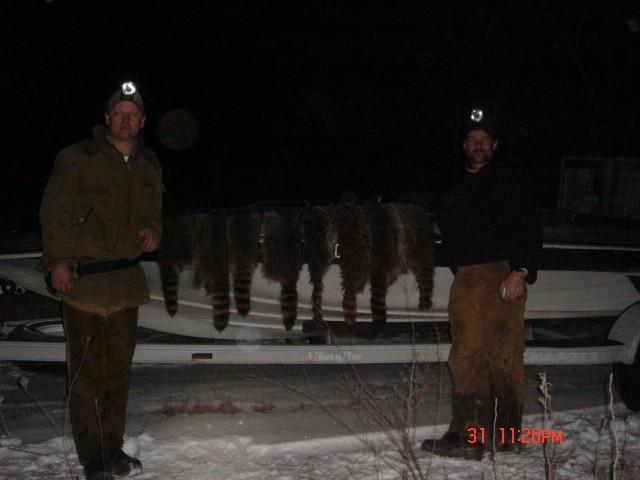 Jan 2010 Last night of season - Coon Hunting froma boat!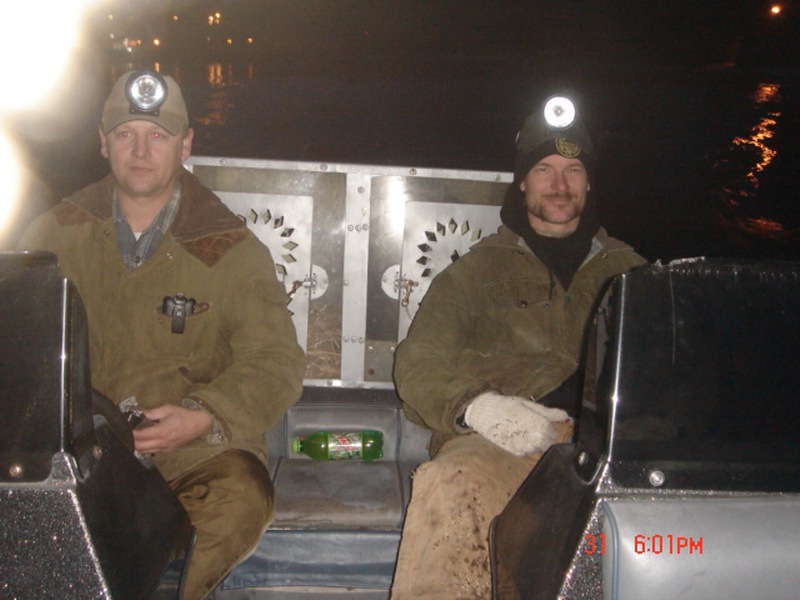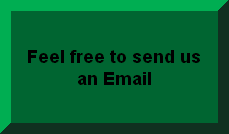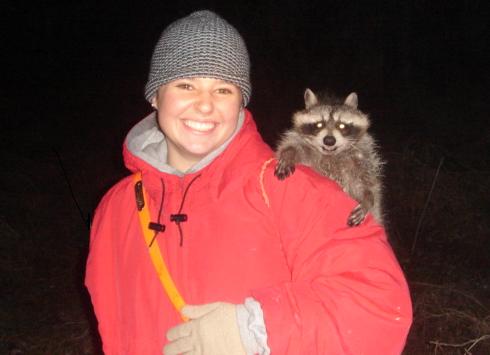 Dallas Fischer with a Coon we treed in 2007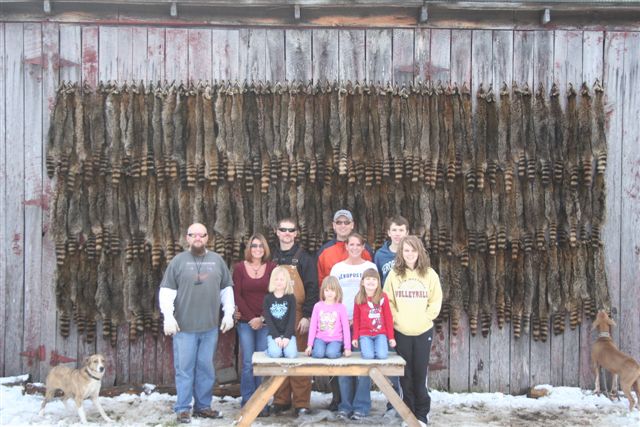 Jan 7, 2010 - fun year of coon hunting - Family affair!!